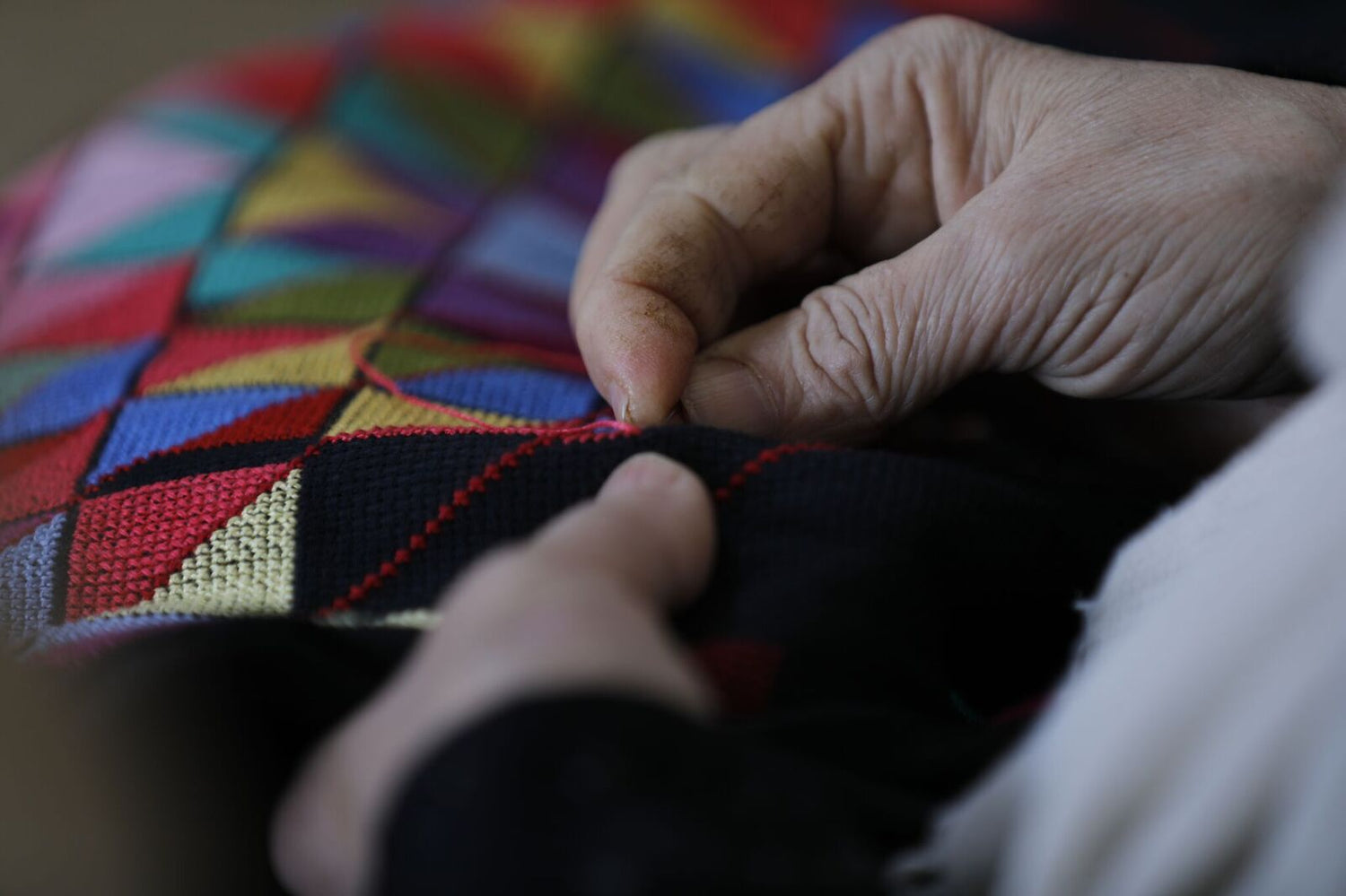 Sulafa
Sulafa is a non-profit project established by the United Nations Relief and Works Agency for Palestine Refugees (UNRWA) in 1950. It is a household name in Gaza for quality embroidery, supporting approximately 400 local artisans by commissioning traditional and contemporary embroidered goods. The purchase of a Sulafa product allows these women to support their families, which often rely on only one source of income.

Sulafa is more than a way for women to earn a living. It is also a way to preserve the traditions and culture of Palestinian embroidery that have been handed down through many generations. Stories depicting life in Palestinian villages and communities are conserved in dresses, scarves, pillows and many other garments, making embroidery a way to tell and remember Palestinian heritage. Traditional patterns focus on geometric shapes based on items that are most familiar to Palestinian women in their daily surroundings and allow them to express individual skill and a connection to their own village and peers. Depending on the region in Palestine, the patterns can include cypress trees, bunches of grapes, apple trees, chickens, pigeons, rainbows, roses, and flower pots, among other objects. 
The embroidery work in Sulafa products is 100% hand-made, created by women of all ages. These women are supported by embroidery instructors, who monitor product quality. Most of the work is done at home, but women also have the opportunity to gather at local community-based organizations where they can meet with peers and ask questions of each other and from the instructors.
Sulafa embroiderers use two different stitches: the traditional cross stitch, and the Madani stitch, which is more common to the West Bank. The cross-stitch is relatively simple; however, making a large patterned item with this stitch takes perseverance, consistency, time, and accuracy. After the embroidery work for each product is completed, products are finished by tailors in Sulafa's sewing and finishing workshop. Although Sulafa maintains Palestinian traditions in its embroidery through the use of the cross-stitch and traditional color combinations, Sulafa also emphasizes innovation by producing modern designs with new color combinations, patterns, fabrics, and stitches.
https://sulafa.unrwa.org/Home/About
Items from Sulafa
Regular price

$150.00 USD

Regular price

Sale price

$150.00 USD

Unit price

per

Regular price

From $10.00 USD

Regular price

Sale price

From $10.00 USD

Unit price

per