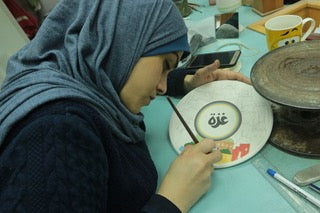 ASDC
Atfaluna Society for Deaf Children (ASDC) is a  Palestinian organization located in Gaza City, occupied Palestine,  that has been providing services to persons with hearing disabilities since 1992. Thousands of hearing-impaired children and adults and their families participate annually in education, audiology, speech therapy, income-generating programs as well as  vocational training, awareness programs, and a host of other services. The Atfaluna Crafts production unit of the Society was established in 1998 to empower people with hearing disabilities by providing vocational training and job creation.
 The program has successfully trained thousands of people and provided job opportunities to hundreds of them in Gaza. The program now includes carpentry, sewing, embroidery, pottery, painting on wood, and rug and fabric weaving. The department employs 51 women and men with hearing disabilities, as well as a specialized team of designers whose creative new ideas link Palestinian traditional and modern designs. The pieces produced include women's clothing, decorative items, and furniture pieces. Proceeds from the sales are reinvested into the programs.
Atfaluna Crafts also runs a work-from-home program that supports more than 150 women and men with hearing disabilities and other marginalized women who graduated from the ASDC vocational training courses. The program provides them with the raw materials and tools needed to produce handicrafts which are then marketed and sold at the Atfaluna Crafts stores.
Sources: